Mission, Vision, Value
"Encourage the individual
to enable the organization."
At HRBC, we believe that encouragement helps people take steps forward—and when people keep making forward progress, the organization gains the momentum it needs to evolve. It's our job to spark that chain reaction, using the "live performances" of training sessions to inspire dynamic moments.
We'll always hold true to our mission: being a trusted advisor for anyone and everyone involved in enhancing human resources and organizations, be they HR-development professionals, organizational leaders, or contributors to their respective teams.
"Resonating with our customers"
Working as a team of "Brain Consultants" for everyone in the business of developing people and organizations, we're always striving to create the perfect live performance—a vibrant, resounding experience—with our customers.
For us, that means crafting a moment that people look back on as an enabling turning point in their lives: a day, a place, a time of encouragement they can attach lasting, impactful memories to.
The whole HRBC team is constantly thinking about how to encourage the individual to enable the organization. Our quest for the perfect live performance is one that'll never end—there's always more we can do to deliver inspiring experiences.
"Positive" "Professional" "Proactive"
How do we create amazing live performances?
We base everything we do and the attitude we embody in the "three Ps":
positive thinking, a professional mindset, and a proactive commitment to action.
Those are our core principles at HRBC.
Consultants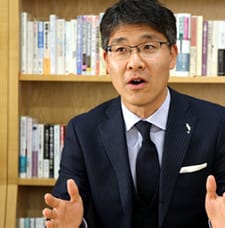 Motonaga
Masuda
Corporate Officer
Inspire a can-do mindset
Masuda's life revolved around work when he embarked on his career in sales at the Nomura Securities Akita Branch, but he couldn't shake a dream that first started taking shape when he was 10. Knowing full well that following his boyhood aspirations might jeopardize his career, he made the leap and headed to the United States with the hope of becoming a pro golfer.
After following through on that lifelong ambition, Masuda was determined to combine his passion for sports and knack for business—and then along came a chance encounter that'd prove pivotal. He happened to meet the president of the Yokohama BayStars baseball club at the golf course where he was working. He knew he wasn't going to get another opportunity like this, so he took the gamble and asked for a job with the BayStars. Soon, he was working for the team.

His time there saw him head up the Corporate Sales Division, where he contributed to team management by handling sponsor sales and other initiatives. He also seized the opportunity to take his management expertise to the next level at graduate school, a setting that deepened his command of administrative theory. As a specialist in organizational management, Masuda has found a rewarding calling in human-resource development that maximizes the potential of every individual. Since joining HRBC, he's translated his background and skills into energetic training sessions full of enlightening examples from his firsthand experience with professional athletes, specialized teams, and unique organizations.

Academic experience: Completed the doctoral program at the Keio University Graduate School of Health Management
Currently teaches at the Keio University Graduate School of Health Management as an adjunct instructor

Birthplace: Kanagawa Prefecture
Blood type: A
Astrological sign: Taurus
Favorites, hobbies, and other personal details: Always feels a rush of excitement when he hears the intro to Seiko Matsuda's "Aoi sangoshō"; recently hung up his golf cleats (despite boasting a personal-best round score of 67) but still heads to the gym for a weekly workout.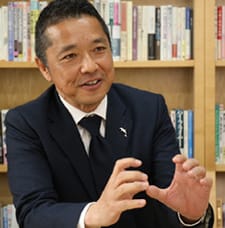 Masanobu
Oda
Senior Consultant
Striving to be someone people are happy to know
Oda's career started to take shape when he was working in sales at Tostem (now LIXIL, a housing-equipment manufacturer) and got the chance to help set up a new sales network.
As he navigated his way through unanticipated challenges on a daily basis, often struggling to find solutions, he gained a valuable understanding of how important it is to stay enthusiastic and work to connect with customers.
That insight, along with his skills and expertise, led the company to name him a team manager after he'd been on the job for just five years—making him the organization's youngest person to fill that position. After completing his stint as team manager, Oda became the director of the Construction and Distribution Center. The position gave him firsthand exposure to the unique difficulties of managing team members across the spectrum of standpoints and backgrounds, ranging from full-time employees to secondees and subcontractors.
Oda eventually made his way to a position at the Head Office, where he worked his way up to division director through numerous initiatives to firm up the company's foundation for human-resource education—a process that involved implementing a brand-new training framework, measuring training effectiveness, developing systems, and laying out skill maps for sales representatives.
When five players in the industry merged to form LIXIL, Oda served as the executive manager of Sales Division Education and led a project to create a new educational framework with team members from the different corporate cultures of the separate merging firms; his efforts helped make the integration a success.
As a consultant, Oda always strives to provide every training participant with constant support and make his sessions into the types of insight-sharing experiences unique to "live performances."

Academic experience: Graduated from the Department of Japanese in the Faculty of Letters at Hosei University
Birthplace: Yamaguchi Prefecture

Blood type: AB
Astrological sign: Gemini
Favorites, hobbies, and other personal details: Adores Tatsurō Yamashita's melodies and songcraft; is the figurative "twelfth man on the pitch" for JEF United Ichihara Chiba, the soccer team whose home games he attends with an almost religious devotion.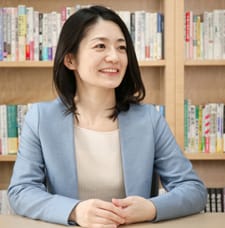 Maiko
Baba
Consultant
Under an unassuming, gentle surface lies a firm resolve
Maiko Baba embarked on her career as a consultant for systems engineers at Fujitsu Learning Media, a leading training company.
In the spring of her third year on the job, family responsibilities forced her to make a U-turn on her professional path. Dealing with the bitter taste of her unexpected withdrawal from the front lines at work, she felt like she was nearing rock bottom. The only place to go, then, was up: she went for broke and set off as an independent freelance trainer. That big decision paved the way for the next ten years, a time during which she gained invaluable experience as a consultant.
Baba eventually felt the itch to get back into the team environment and try new things. After successfully landing a position at the Astellas Learning Institute, she got to hone her skills as an in-house consultant for the Astellas Pharma Group and even expand into planning and organizing training sessions.
While those new roles were regularly rewarding and fulfilling, Baba knew that her true calling was to be a consultant—that's where she could really shine.
It was time for another big decision. Backed by a wealth of diverse experience, Baba decided to put it all together and specialize in consultation at HRBC.
Her journey may not have been all smooth sailing, but she leverages that background into sessions that help everyone she meets pave their own professional paths—that's the kind of consultant she aspires to be.

Academic background: Completed the educational informatics program at the Tohoku University Graduate School
Nationally certified career consultant
Birthplace: Nagasaki Prefecture

Blood type: A
Astrological sign: Pisces
Favorites, hobbies, and other personal details: Is a firm believer in the maxim "No music, no life"; gets so into playing the piano in her free time that she often forgets to eat; believes that she has good luck in her professional life—if only her professional life.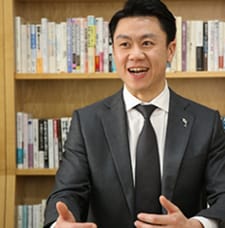 Tomohiro
Iwai
Consultant
Nothing goes to waste
Iwai's entire career before joining HRBC was in the startup sector. That environment, one where you always have to be on your toes, gave him a proactive, do-it mentality. Nothing can happen, he learned, if you don't make it happen yourself. Starting and growing new projects can be a challenge; opinions often collide, threatening the stability of the effort at hand. Iwai, however, always had a balance about him—and that sense of equilibrium helped him steer numerous projects to success.
Iwai has been a tour de force in coordinating business-training programs at HRBC, leading planning and development of over 500 sessions a year.
In designing the right approaches to all the diverse needs that clients deal with, he eventually decided that he wanted to be "on the ground" in the settings where real solutions emerge—he set out to become a facilitator, the creative presence behind powerful "live performances."
Everyone has a different value system. For Iwai, that's what makes workshops so dynamic: they're places where people can recognize those interpersonal differences and stimulate each other.

Academic experience: Graduated from the Faculty of Economics at Keio University
Birthplace: Tokyo
Blood type: A
Astrological sign: Pisces
Favorites, hobbies, and other personal details: Goes climbing at the gym during the week and climbs real mountains out in the countryside on the weekend.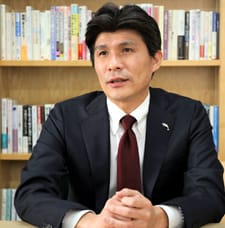 Fumiyasu
Sakogawa
Representative Director
Enjoy the Challenge
Sakogawa's career started at AstraZeneca, a foreign-affiliated pharmaceutical firm, where he served as a medical representative (MR). Working out of the Kyūshū region, he made sales proposals and developed a richer customer base through connections with organizations ranging from small-scale clinics to university hospitals.
A corporate merger at AstraZeneca then spurred an organizational change that made Sakogawa a team leader. Although the new responsibility brought its share of challenges and failures, Sakogawa constantly strove to boost morale among team members with divergent perspectives and managed to foster dramatic improvements in team performance through a concerted effort with his colleagues, both young and old.
After making his way to the Human-Resource Planning Division at the company's Head Office, he enhanced human-resource development and organizational development by leading efforts to optimize the education framework, evaluation system, and more. Representing a vital link between the Head Office and employees in the field, Sakogawa poured his energies into making operations better and more transparent; his consistent, mobile presence in the field helped him gain valuable experience in leading a variety of workshops.
For Sakogawa, the key ingredients to a successful training session are smiles, positive energy, and just the right amount of tough, rigorous guidance. He's constantly molding those elements into the best experiential workshops—"live performances"—possible.
Academic experience: Graduated from the Institute of Business and Accounting, Professional Graduate School, Kwansei Gakuin University (MBA)
Currently teaches as a visiting instructor at the Tama University Graduate School of Business

Birthplace: Hiroshima Prefecture
Blood type: O
Astrological sign: Leo
Favorites, hobbies, and other personal details: Throws right-handed and bats from both sides; loves Shōgo Hamada's deep, penetrating sound and lyrical perspective; hopes to one day don a Hiroshima Carp jersey.